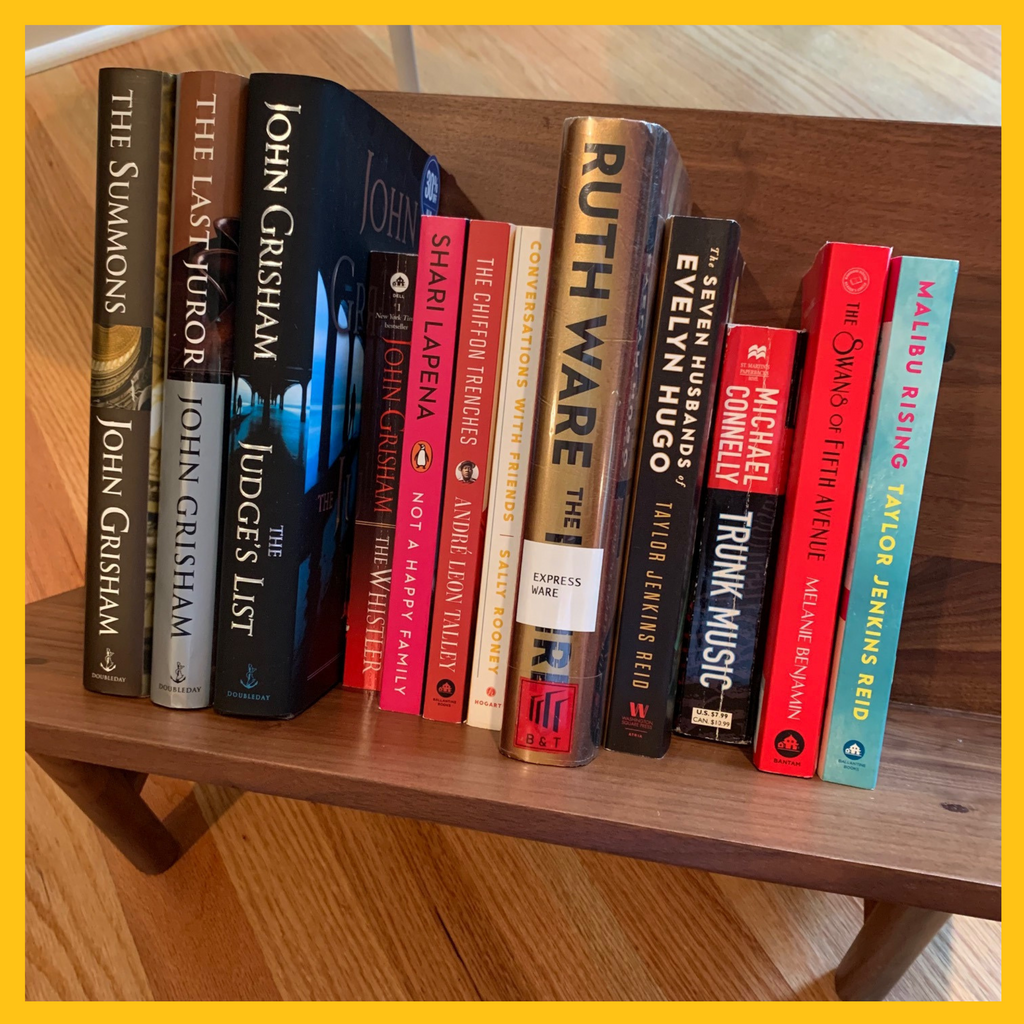 A goal I have set for myself is to do seasonal recaps of what I have read. I'm starting with a review of all the books I read this summer. As you can see, I was on a John Grisham kick for a while. For about a month I only felt like reading his books because they are books that I can really get into, but not so much so that I can't put them down. I did not read as much this summer as I have in the past so I'm hoping to make up for it in the fall. Without further ado, here are my reviews:
"The Summons" John Grisham: I did not particularly enjoy this book. Some of his books are excellent and some feel like something he wrote just to put something out there because he is so prolific. I would not recommend this.
"The Last Juror" John Grisham: I enjoyed the narrator of this book and his personal journey. That's not normally something I would say about a narrator in a Grishman book. There is a lot of focus on interpersonal relationships and I think Grisham does a good job.
"The Judge List" John Grisham: I enjoyed this book and at times could not put it down. You definitely root for the good guys to win in this because the stakes are so high.
"The Whistler" John Grisham: Of all the Grisham books I read this summer, this was my favorite. I read it over two days, so I got very into it. It actually was the first Grishman book I read this year so it launched me into my Grisham moment.
"Not a Happy Family" Shari Lapena: This was not my favorite of her books but I got really into it and did not forsee who the murderer was, I always love to be caught off guard!
"The Chiffon Trenches" Andre Leon Talley: This book made me miss ALT a lot. What an icon. I loved hearing about his journey from North Carolina to the front row of fashion shows. His account of his friendship with Karl Lagerfeld was particularly interesting. As soon as I finished reading this book I watched "The Gospel According to Andre". What an icon. This book is a must read for fans of ALT!
"Conversations With Friends" Sally Rooney: I have to be in the right mood when I read a Sally Rooney book because her depiction of the lives her 20 something character lead often brings me back to that time in my life and not always in a good way (not that I see myself in any of her characters, but it brings me back to the general lack of certainty about what you are doing with your life and where your relationships are going). With that said, I read this book when I was in the mood and I really enjoyed it. I also loved that there was an Alex Katz illustration on the cover. Not sure how she scored that!
"The It Girl" Ruth Ware: Lots of plot twists, all of which I enjoyed. I love books based in prestigious British schools and this did not disappoint. I will read anything Ruth Ware writes and I very much enjoyed this book.
"The Seven Husbands of Evelyn Hugo" Taylor Jenkins Reid: I loved this. And I wish I had read it sooner. There is a crazy plot twist you don't see coming. I enjoyed how much focus there was on powerful women. I won't spoil anything but Evelyn is a very complex character and I enjoyed how Reid unpacks all of her layers. This book also solidified my respect of Reid as an author.
"Trunk Music" Michael Connelly: I read this after reading several of Connelly's books in a row and I realized after this book I needed to take a bit of a break from Harry Bosch. It did not have too much to do with this book as much as character fatigue. I do have the next book in the series in my fall reading stack. On the whole I enjoy books in the Bosch series. I like when you can get familiar with a character over the course of a series.
"The Swans of Fifth Avenue" Melanie Benjamin: I lived for the gossip in this book. I re-read "In Cold Blood" earlier this year so it was interesting to read this after. My goodness Truman Capote was a real piece of work! I really enjoyed reading this and I have heard a tv series based on Capote's swans is in the works. I cannot wait for that because I want to see the outfits these women wear!
"Malibu Rising" Taylor Jenkins Reid: I had this on my "to read" list for a while but never did. I felt like I saw so many people reading it so I decided to go for it. It did not disappoint! I really enjoyed the characters and the flashbacks. I liked that the majority of the book took place over the course of one day. I always love that kind of detail. After I finished this I went to my local bookstore and purchased "The Seven Husbands of Evelyn Hugo" (see review above!).
katie bartels