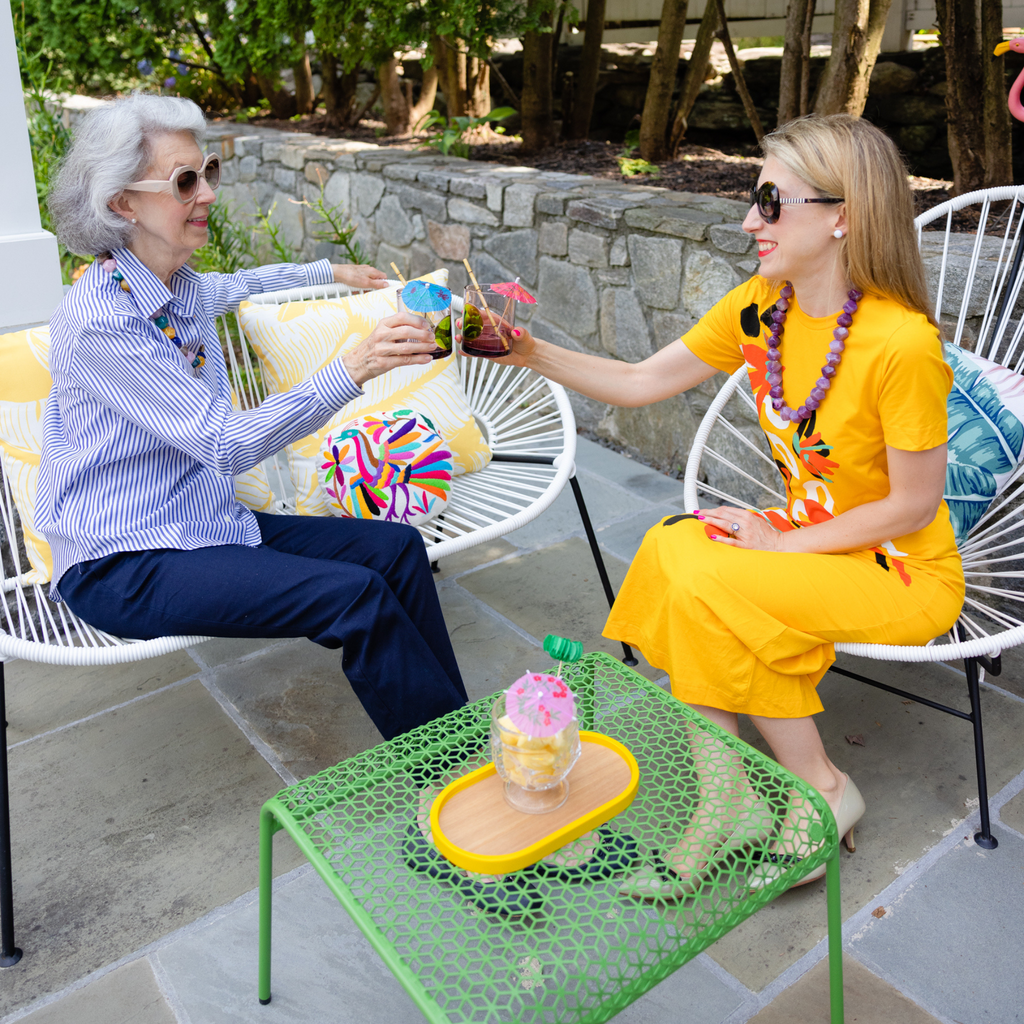 Let's talk tabletop. I live for a fabulous napkin. What an easy & versatile way to make your home more colorful. You can't change your curtains and sofas everyday, but you can change your tabletop. I love a good theme so I have a robust collection of lobster tabletop items. I also have a growing collection of tiki bar inspired tabletop decor. Both go fabulously with my striped pillows.
In this week's post, I have decided to focus on some fabulous pops of color to add to your dining room, eat in kitchen area, and outdoor eating area.
I personally own this
Furbish Studio Poppy Tablecloth
. The shade of pink is awesome and it is machine washable (I refuse to buy table linens that can only be dry cleaned!). I love the pieces Jamie at Furbish curates.
No one does colorful glassware better than Estelle Colored Glass. I started my collection with the
Colored Wine Stemware
set and it has grown from there. I love her martini glasses and I am known to drink water from them to make myself feel more fabulous when I am answering emails at my desk.
I love lacquer trays and when I discovered that lacquer placemats exist?! I was super excited. I first discovered the UK-based brand Addison Ross through their wonderful picture frames (they make a fabulous gift!). I then purchased one of their lacquer trays and soon got matching
Yellow Lacquer Placemats
. These can also be used to hold jewelry on a dresser or keys/sunglasses on an entryway table. It can also be a coaster if you are double or triple fisting ;)
Colorful coasters can make a splash in any room. I recently put a colorful coaster on a side table in our tv room and it added a nice little pop of color. These
Dyed Alabaster Scalloped Coasters
are really fabulous. They come in other colors but I love this mango color. And the shape is wonderful (I have a thing for scallops).
While kitchen towels/tea towels aren't really table top, I'm still putting them in this post because we don't have a formal dining room so I see my kitchen towels while I sit at my dining table ha! Archive New York has really fabulous prints and I love this
Lola Kitchen Towel
. They also make fabulous pillows.
No one does patterns like LaDoubleJ. I adore their dresses and my first purchase from their site was actually a set of dessert plates. These
Gelato Cups
are absolutely amazing and I would totally use them for my breakfast parfaits.
I'm a huge chopstick fan and when I saw these
Rainbow Chopsticks
at the MoMA store, I immediately ordered them. The colors are fabulous and of course I coordinate my chopsticks with my food. I really like using the pink ones with cucumber rolls. And I eat my salads with the yellow chopsticks.
I first discovered Helle Mardahl years ago on Pinterest and I was obsessed with her colors and unique glass forms. Her light fixtures are to die for. This
Bon Bon With A Twist
glass cup really adds the perfect pop to a table top.
I can get a bit overwhelmed with centerpieces. At one point or another we've all sat at a table with a centerpiece that is too much. I once went to a wedding and there was basically a tree in the middle of the table and I couldn't see anyone on the other side of the table. Not good. So I am hesitant to create anything too tall or too wide. Oh I once went to a wedding where the centerpiece was bottles of wine. A+ centerpiece. Anyway, I saw these
Kim Seybert Palm Trees
in House Beautiful magazine (yes I still subscribe to print media!) and fell in love. They now grace the center of my table!
Pitchers are another fun way to add color to you table. I like to have a pitcher with still water & a pitcher with sparkling water (this was inspired by the numerous meals I had at The Smith in NYC). This
Wave Pitcher
is a great statement piece and you can also toss flowers in here when you aren't hosting!
One of my big take aways from eating so many meals at home over the past few years is that there is no reason not to make your dining room feel like a fabulous culinary oasis. Takeout sushi can get boring but if you have colorful chopsticks and fabulous napkins, its a happier experience. And I'm telling you, water tastes better out of a colorful glass. It's just science. Check out my
Designer Dining
Pinterest board for more colorful design inspiration!
katie bartels