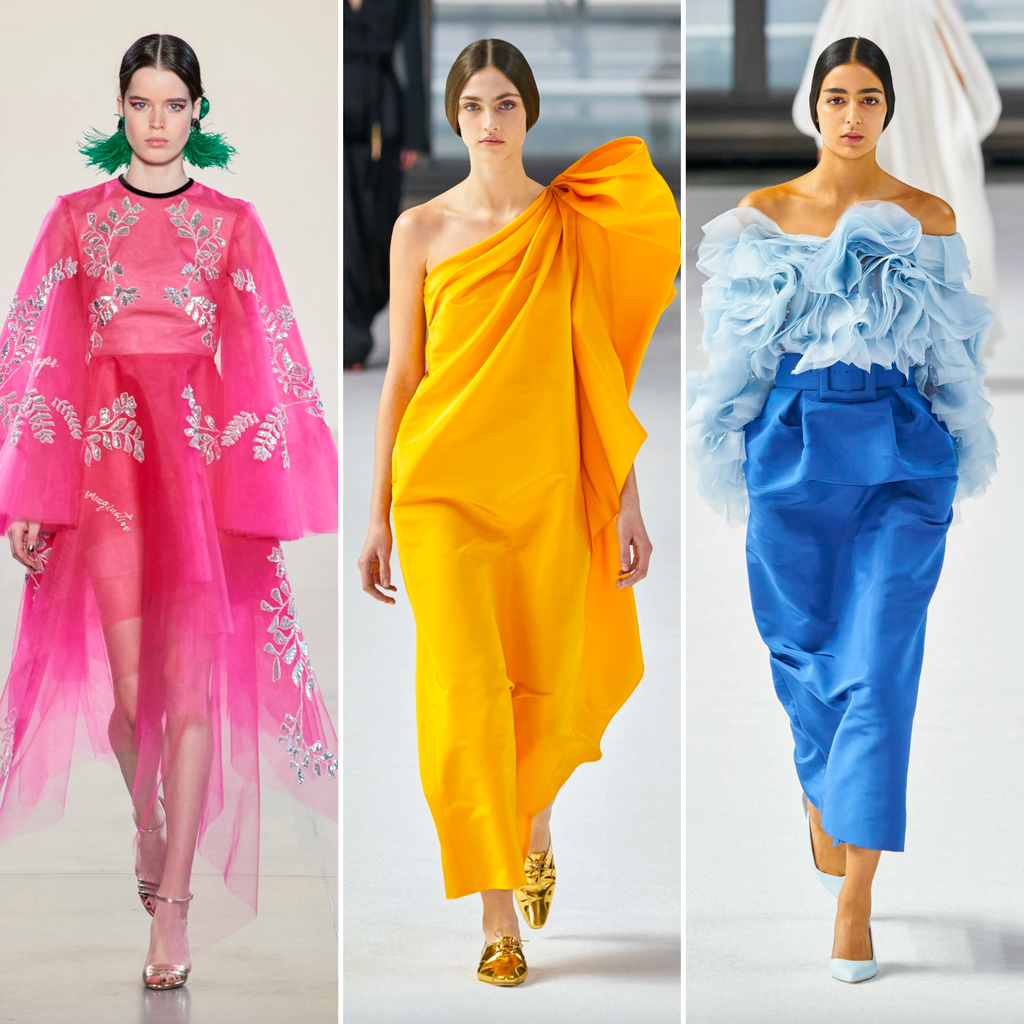 February is by all accounts a less than wonderful month of the year. We are well past the holidays and far enough from spring that you can't start getting excited about the change of seasons. However, there are a glorious few days that I look forward to each year: New York Fashion Week. I love going through all of the designer collections online (definitely not cool enough to get to go to the shows...although one year I did score tickets to three shows and I loved every single minute of it).
I love saving images to my
pinterest account
and day dreaming about wearing some of the amazingly constructed garments. Swoon city!
Here are some of my favorite pieces from this years NYFW:



This Carolina Herrera dress is what my bold orange dreams are made of.
I would pair it with turquoise or emerald accessories.



This J. Mendel gown is so dreamy. I love the color and shape.
I am all about layers in skirts these days and this is what I'm talking about.



I got into big geometric sleeves a few years ago and I am so thrilled
to see them on the runway. Talk about making an entrance.
Well done, Bibhu Mohapatra!



LOVEEEEEE this Bibhu Mohapatra dress!! Omg the color,
the materials, the shape, the earrings. I am all about
pink and green these days (I grew up in Lilly-filled CT
so I resisted the combination for a while but I am fully embracing it again).



I mentioned my love of big/geometric sleeves
earlier...I love a long sleeve. I'm very into it these days.
Long sleeves + long dress = my current obsession. Bravo, Lela Rose



I. Want. This. Coat. Naeem Khan produces some
of the most amazing embroidered looks and this is a real stunner.



I did not realize I needed chartreuse and
pink together in my life until I saw this Oscar de la Renta look. Swoon!



Who knew turquoise and light blue were so
perfect together. I will not be mixing two shades
of one color together more. Way to go Carolina Herrera!



I love Cynthia Rowley so much.



Naeem Khan again with the jacket of my dreams.



Everything about this Oscar de la Renta dress
 is amazing. I also like that it looks like you can walk
easily in it?! Maybe not but damn I love silk taffeta.



The color blocking with a velvet obi-esque belt is
really up my alley. I love how Oscar de la Renta
mixes textures and colors this season.



I'm not usually about an all black look but with
this tulle detail I am here for it. Oscar de la Renta for the win.



SLEEVES!! Also this bold lip with the deep purple.
Swoon, Oscar de la Renta



This shade of orange!! I would rock this Naeem Khan
look with big turquoise earrings and yellow silk shoes.



Carolina Herrera! I have been really into light blue
paired with bright colors (think kelly green, this orange, neon pink.



Give me sleeves, give me bright orange, and pair
it with statement shoes. Love you Bibhu Mohapatra!



Imagine twirling in this Bibhu Mohapatra dress?!



What cobalt blue dreams are made of.
Oh Carolina Herrera how I love you so!
This Carolina Herrera dress should be in a museum.
I.Love.Long.Sleeves. Also this embroidery.
Seriously, there needs to be a Carolina Herrera museum.
Off the shoulder AND statement sleeves.
Carolina Herrera how you get me!!
Brock Collection jackets are insanely gorgeous.
I do not own one yet but I dream of owning one.
The tailoring is so feminine and flattering and
they have some of the best sleeves in the game.
Marc Jacobs really nailed it with the
60s glam vibes. And who doesn't
love a yellow statement coat?!
Really a fan of white long-sleeved dresses.
Way to go Marc Jacobs
I grew up in a household where camel coats
were highly respected. I love this Twiggy-influenced
Marc Jacobs coat.
Again, sleeves + long dress. Love the patterns
Barbara Tfank uses in her designs.
Ohhhhh camel coats and green patterned boots?!
Tory Burch you showed me something I didn't know I needed.
Sleeve details for the win, Tory Burch



{all images, vogue.com}
katie bartels