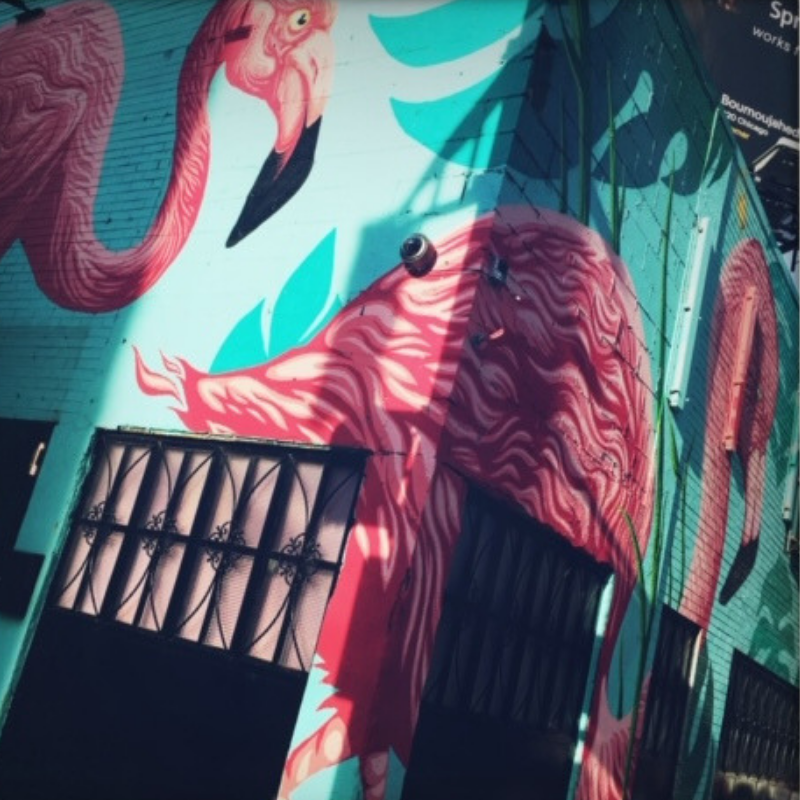 I am always in search of color and my travels to Chicago in the early spring of 2018 proved to be an aesthetically pleasing journey.
The Art Institute of Chicago is one of my favorite museums in the USA, in large part because of their modern art collection. They have several pieces from one of my favorite designers, Ellsworth Kelly, including the amazing Chicago Panels.
Train Landscape, Ellsworth Kelly
Chicago Panels, Ellsworth Kelly
Ready-to-Wear, Stuart Davis
I made a visit to Sawada Matcha in River North and was enamored with their bright kelly green espresso machine. And the matcha was delicious.
I was very lucky to discover somewhat of a hidden gem at the Chicago Cultural Center: Keith Haring's "The Chicago Mural". It was one of the largest of Haring's works I have seen in person.
One of the most important things to know about me is that I absolutely love tiki bars. The kitschy mix of palm leaves, umbella straws, neon lights, and fruit garnishes makes me incredibly happy. My absolute favorite tiki bar (and bar in general) in the world is Lost Lake. It is what tiki dreams of the menu. The drinks are works of art. And the typography and graphics on the menu are Matisse cut-outs meets mid century modern kitsch. Heaven.
every cocktail at Lost Lake is a work of art
menu of my dreams
I also explored Three Dots and a Dash. I found the drinks very aesthetically pleasing but the bar itself was more of a scene than I prefer. But the staff there was very friendly and I had some amazing yucca fries when I was there.
Flamingos are my favorite bird (purely for aesthetics, I have heard they are real jerks) and so I was enamored with the flamingo mural on the facade of The Flamingo Rum Club.
When I was a kid, I remember going through O'Hare Airport and being transfixed with the colorful lights on the ceiling. I was thrilled to see the lights remain and definitely took my time walking though the terminal.
katie bartels